The Chart of the Day belongs to the Russell 3000 ETF (IWV) Today we keep oscillating above and below the Market's 200 Day Moving Averages. I am using the Russell 3000 ETF (IWV) as my Market Benchmark instead of the more traditional Market Benchmark of the S&P 500 so I get a much broader view.
The iShares Russell 3000 ETF seeks to track the investment results of a broad-based index composed of U.S. equities. The Fund seeks investment results that correspond to the performance of the Russell 3000 Index. The Index measures the performance of the broad U.S. equity market.
Below I am showing a 6 month price chart of the Russell 3000 ETF (IWV) showing price vs. the simple 20, 50, 100 and 200 day moving averages: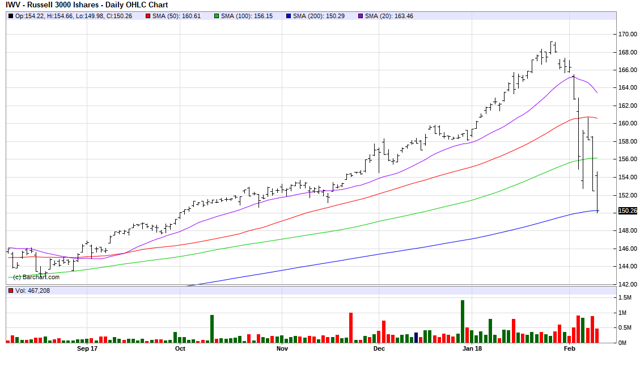 Barchart's Opinion trading systems are listed below. Please note that the Barchart Opinion indicators are updated live during the session every 10 minutes and can therefore change during the day as the market fluctuates. The indicator numbers shown below therefore may not match what you see live on the Barchart.com web site when you read this report.
Barchart technical indicators:
56% technical sell signals
Trend Spotter sell signal
Below it 20, 50, 100 and 200 day moving averages
Trading at 150.81 which is below its recent high of 169.20 (slightly more than 11% down)
Relative Strength Index 25.03%
I'm not sure what your tolerance for pain is but mine is usually the 100 day moving average. I'm retired so I'm very cautious but if you are below 50 and still dollar cost averaging into your 401K do not panic and appreciate this buying opportunity. If you are over 50 you should know already when your alert signal says: PRESERVE CAPITAL! Did you prepare for this market??? If not are you going to be prepared for the next one? What is your alert signal?
Ignorance is never bliss.